Meet Our Doctor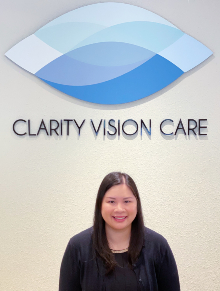 Dr. Hieu Huynh
Dr. Hieu Huynh grew up in Carrollton, TX. She received her Bachelor of Science degree in Interdisciplinary Studies from The University of Texas at Dallas. She went on to earn her Doctor of Optometry degree from the Pennsylvania College of Optometry at Salus University. Her clinical background includes externships at the Jack C. Montgomery Veterans Affairs Hospital in Muskogee, OK, The Cornea and Contact Lens Institute in Edina, MN, The Eye Institute in Philadelphia, PA, and with Dr. James Lewis in Elkins Park, PA. Her clinical rotations had an emphasis in primary care optometry and ocular disease, but also provided her experience with specialty contact lenses, and co-managing cataract and refractive surgeries.
Dr. Huynh is licensed to practice the highest level of optometry granted by the Texas Optometry Board. She has a special interest in primary optometric care, ocular disease, LASIK and cataract co-management, dry eye management, and specialty contact lens fittings including astigmatism and multifocal correction. Dr. Huynh enjoys taking the time to get to know her patients and educating them about the importance of eye health.
In her spare time, Dr. Huynh enjoys playing with her two Corgis, Thor and Loki, watching TV, listening to live music, and trying new food.
Dr. Huynh is an active member of the American Optometric Association, Texas Optometric Association, as well as the Dallas County Optometric Society. She is also a member of the Richardson East Rotary Club.